Indikation
TR-band är ett tillslutningssystem (vascular occlusion device) efter koronarangiografi/PCI via arteria radialis eller a ulnaris.
Beskrivning
Terumo-Band (TR-band) är ett plastband med två uppblåsbara luftkuddar, kompressionstrycket justeras genom att blåsa in mer eller mindre luft. TR-bandet placeras rund handleden som ett armband.
TR-band och medföljande luftspruta är engångsmaterial.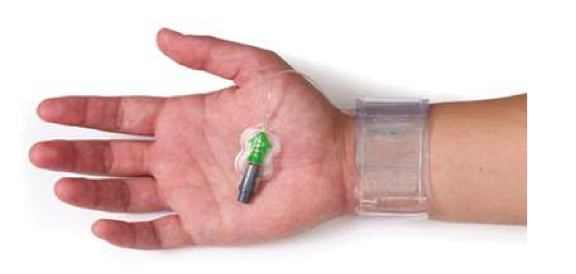 Metodbeskrivning TR-band

Nominaltrycket (normaltrycket) är 13ml luft. Maximaltrycket är 18ml luft.
Målet är att både förhindra en blödning och minska andelen patienter med en (oftast tyst) radialisocklusion efter radialisangiografi. Detta fungerar bäst genom att använda "patent hemostasis" teknik: [1]Pancholy S, Coppola J, Patel T, Roke-Thomas M. Prevention of radial artery occlusion-patent hemostasis evaluation trial (PROPHET study): a randomized comparison of traditional versus patency … Continue reading Att ej fullständigt komprimera arteria radialis med TR bandet (det vill säga: det finns flöde i artären men det blöder inte), så att en proppbildning i arteria radialis blir mindre sannolik [2]Sanmartin M, Gomez M, Rumoroso JR, et al. Interruption of blood flow during compression and radial artery occlusion after transradial catheterization. Catheter Cardiovasc Interv. … Continue reading
Fäst bandet runt handleden, det skall sitta fast men inte hårt.
Användning på höger hand: slangen som går till luftkudden är riktad distalt; mot patientens hand
Användning på vänster hand: slangen som går till luftkudden är riktad proximalt; mot patientens armbåge
Den gröna pricken på den uppblåsbara plastkudden skall vara placerad ca 2-4mm proximalt om hudpunktionsstället
Dra upp 18 ml luft i sprutan och fäst sprutan vid backventilen markerad "air" (OBS: spruta in i luftkudden, ej luft in i artärintroducern som ska dras!)
Injicera 10 ml luft i luftkudden. Dra introducern och injicera ytterligare 8 ml luft i kudden, det vill säga sammanlagt 18 ml
Töm ut luft långsamt precis tills du ser att blod börjar komma ur insticksstället
Injicera ytterligare 3 ml luft (det vill säga 3 ml mer än det som behövs för att stoppa blödningen)
Sätt en tejpbit över kardborrebandet och notera tid och luftvolym (vanligtvis 10-18 ml) i kudden
Skicka med sprutan till avdelningen
Observation på avdelningen
När patienten kommer till vårdavdelning skall handens färg och temperatur noteras. Om fingrarna är bleka, kalla eller smärtande släpps 2 ml luft ut ur slangen med den medföljande sprutan. Uppmana patienten att ta det lugnt med handen och ha den i högläge. Notera förändringar som svullnad eller blödning.
Om blödning uppstår vid manipulation injiceras mer luft (1-4 ml) tills blödningen upphör. Maxvolym är alltid 18 ml. Notera när och hur ändringarna utförs.
Trycksänkning/avveckling av förbandet
Efter 2 timmar: släpp ut 2 ml luft ur luftkudden
Efter ytterligare 1 timme: släpp ut ytterligare 2 ml luft
Förbandet avlägsnas efter totalt 4 timmar (vid användning av rheopro/integrillin kan det behövas mer tid, då töms luftkudden efter 4 timmar tills 6 ml återstår och förbandet får sitta i totalt 8 timmar)
Komplikationer efter radialisangiografi/PCI
Radialisokklusion
Radialisokklusion är den vanligaste komplikationen efter radialisangiografi. Incidensen varierar mellan 1 och 33% enligt en metaanalys av 66 studier, beroende på mättidpunkt och andra faktorer. [3]Rashid M, Kwok CS, Pancholy S, Chugh S, Kedev SA, Bernat I, Ratib K, Large A, Fraser D, Nolan J, Mamas MA. Radial Artery Occlusion After Transradial Interventions: A Systematic Review and … Continue reading I de flesta fallen är radialisokklusion asymptomatisk och kan ibland upptäckas vid uppföljande angiografi där pulsen saknas. [4]Sandoval Y, Bell MR, Gulati R. Transradial Artery Access Complications. Circ Cardiovasc Interv. 2019 Nov;12(11):e007386. doi: 10.1161/CIRCINTERVENTIONS.119.007386. Epub 2019 Nov 1. PMID: 31672030. I RIVAL-studien förekom symptomatisk radialisokklusion endast i 0,2% av fallen, och inget av dessa krävde intervention. [5]Jolly SS, Yusuf S, Cairns J, Niemelä K, Xavier D, Widimsky P, Budaj A, Niemelä M, Valentin V, Lewis BS, Avezum A, Steg PG, Rao SV, Gao P, Afzal R, Joyner CD, Chrolavicius S, Mehta SR; RIVAL trial … Continue reading Radialisokklusion påverkar framtida tillgång till uppföljande angiografi, användning av radialis som CABG-graft och som arteriovenös fistel vid terminal njursvikt. Modern vård bör fokusera på att förebygga radialisokklusioner. Den viktigaste åtgärden för att förhindra radialisokklusioner är att administrera heparin (Circ Cardiovasc Interv 2019) [6]Sandoval Y, Bell MR, Gulati R. Transradial Artery Access Complications. Circ Cardiovasc Interv. 2019 Nov;12(11):e007386. doi: 10.1161/CIRCINTERVENTIONS.119.007386. Epub 2019 Nov 1. PMID: 31672030. under angiografin och använda "patent hemostasis"-teknik (se metodbeskrivning ovan) vid kärlavslutning och tryckförband. Spontan återöppning av radiallisokklusioner är vanligt förekommande hos många patienter. PROPHET-II visade att RAO-raten gradvis minskade över tid. Efter borttagning av bandage hade de som randomiserats till "patent hemostasis" en incidens av RAO på 13,9%, vilket minskade till 4,3% efter 24 timmar och 3,0% efter 30 dagar. [7]Pancholy SB, Bernat I, Bertrand OF, Patel TM. Prevention of Radial Artery Occlusion After Transradial Catheterization: The PROPHET-II Randomized Trial. JACC Cardiovasc Interv. 2016 Oct … Continue reading
Hematom (instickstället och underarm), kompartmentsyndrom
Hematom kan kategoriseras enligt Early Discharge After Transradial Stenting of Coronary Arteries-gradering: [8]Bertrand OF, Larose E, Rodés-Cabau J, Gleeton O, Taillon I, Roy L, Poirier P, Costerousse O, Larochellière RD. Incidence, predictors, and clinical impact of bleeding after transradial coronary … Continue reading[9]Bertrand OF. Acute forearm muscle swelling post transradial catheterization and compartment syndrome: prevention is better than treatment! Catheter Cardiovasc Interv. 2010 Feb 15;75(3):366-8. doi: … Continue reading
grad I, ≤5 cm (lokalt hematom, ytligt);
grad II, ≤10 cm (hematom med måttlig muskelinfiltration);
grad III, >10 cm nedanför armbågen – underarmshematom och muskelinfiltration;
grad IV, ovanför armbågen; och grad V, var som helst med ischemisk hot (kompartmentssyndrom).
Kompartmentsyndrom är en mycket ovanlig (0,004%) men allvarlig komplikation efter radialisangiografi som ofta kräver akut kirurgi. [10]Tizón-Marcos H, Barbeau GR. Incidence of compartment syndrome of the arm in a large series of transradial approach for coronary procedures. J Interv Cardiol. 2008 Oct;21(5):380-4. doi: … Continue reading
Hantering av komplikationer
Det är vanligt att patienter känner en viss parestesi i fingrarna under pågående tryckförband.
Ischemi: Om handen blir ischemisk (kall, blek) är första åtgärd att lätta på tryckförbandet. Om detta inte hjälper kontakta PCI-jouren (och vid behov kärlkirurgen). Om handen är blå och svullen tyder det mest på venös stas, problemet kan då vara att TR-bandet sitter för hårt runt handleden (inte att ballongen är för mycket uppblåst). Man kan då i vissa fall behöva sätta om förbandet (sätt på en blodtrycksmanschett på överarmen och pumpa upp till väl över systoliska trycket, för att stoppa blodflödet. Ta av TR-bandet och sätt det på nytt, men lite lösare; så att ett finger passar mellan förband och patientens arm. Fyll med 18 ml luft. Släpp blodtrycksmanschetten. Släpp ut luft enligt ovan).
Blödning: Om det uppstår lokal blödning under TR-bandet kan detta oftast lösas genom att öka trycket i ballongen genom att injicera mer luft. Om armen börjar svullna direkt proximalt om TR-bandet kan första åtgärden vara att placera ett ytterligare TR-band direkt proximalt om det första. Om du observerar en mer omfattande blödning i hela underarmen kan det bero på en blödning från instickstället (TR-bandet är inte tätt och blodet sipprar in i armen istället för att lämna genom hudebrytningen) eller det kan vara en artärperforation som orsakades av ingreppet men missades. För att stoppa blödningen kan du applicera ett tryckförband eller försöka stoppa blödningen genom att använda en stor blodtrycksmanschett [11]Mason PJ, Shah B, Tamis-Holland JE, Bittl JA, Cohen MG, Safirstein J, Drachman DE, Valle JA, Rhodes D, Gilchrist IC; American Heart Association Interventional Cardiovascular Care Committee of the … Continue reading(helst benmanschett, om tillgänglig, eftersom den är bredare, annars armmanschett): placera manschetten proximalt om det befintliga TR-bandet, blås upp manschetten och kontrollera samtidigt syremättnaden (POX) i ett finger på samma hand. Pumpa upp manschetten tills POX-värdet försvinner och släpp sedan försiktigt på trycket tills POX-värdet återkommer. Låt manschetten vara på plats i 2-3 timmar och övervaka POX regelbundet. Om blödningen fortsätter att öka och underarmen blir spänd och hård bör du överväga kompartmentsyndrom. Detta är ett allvarligt akutfall. Diskutera med en kirurg vid misstanke.
Information till patienten
Inte belasta handen, inte lyfta tungt, på 3-5 dagar för att förhindra blödning
Patienten får observera insticksstället för eventuella förändringar. Vid förändringar kontaktar patienten sjukhuset
Video från Radcliff group:
Litteratur
Länk till Sahlgrenskas TR-band rutin
Transradial Artery Access Complications (Circ Cardiovasc Interv 2019) [12]Sandoval Y, Bell MR, Gulati R. Transradial Artery Access Complications. Circ Cardiovasc Interv. 2019 Nov;12(11):e007386. doi: 10.1161/CIRCINTERVENTIONS.119.007386. Epub 2019 Nov 1. PMID: 31672030.
An Update on Radial Artery Access and Best Practices for Transradial Coronary Angiography and Intervention in Acute Coronary Syndrome: A Scientific Statement From the American Heart Association (Circ Cardiovasc Interv. 2018, avsnitt Management of TRA Site Complications) [13]Mason PJ, Shah B, Tamis-Holland JE, Bittl JA, Cohen MG, Safirstein J, Drachman DE, Valle JA, Rhodes D, Gilchrist IC; American Heart Association Interventional Cardiovascular Care Committee of the … Continue reading
Contemporary Arterial Access in the Cardiac Catheterization Laboratory (Jacc Cardiovasc Interv 2017) [14]Sandoval Y, Burke MN, Lobo AS, Lips DL, Seto AH, Chavez I, Sorajja P, Abu-Fadel MS, Wang Y, Poulouse A, Gössl M, Mooney M, Traverse J, Tierney D, Brilakis ES. Contemporary Arterial Access in the … Continue reading
Relaterade sidor
Last Updated on May 21, 2023 by Christian Dworeck
Latest posts by Christian Dworeck
(see all)