EKG används som verktyg för att diagnosticera hjärtinfarkter, men även för att förstå infarktens lokalisation och utbredning. Nomenklaturen som beskriver infarktens lokalisation i hjärtat har ändrats över tid:
Klassisk nomenklatur:
Isolerad ST-sänkning i V1-V3 är ett tecken på inferobasal ischemi (tidigare kallat för "posterior" ischemi, alltså ofta CX-ischemi). [3]Thygesen K, Alpert JS, Jaffe AS, Chaitman BR, Bax JJ, Morrow DA, White HD; ESC Scientific Document Group. Fourth universal definition of myocardial infarction (2018). Eur Heart J. 2019 Jan … Continue reading
I denna konsensusrapport från 2006 korreleras infarktens anatomiska lokalisation (dokumenterat på MR) med EKG-fyndet (Q-vågs-lokalisation, eftersom det handlar om genomgångna infarkter). [4]A New Terminology for Left Ventricular Walls and Location of Myocardial Infarcts That Present Q Wave Based on the Standard of Cardiac Magnetic Resonance Imaging.A Statement for Healthcare … Continue reading
I tabellen nedan hittar du den anatomiska beteckningen för EKG-fyndet. Nomenklaturen beskrivs här för genomgångna infarkter (q-vågor), men är dock samma för akuta infarkter: Du kan i tabellen slå upp vad du kallar en infarkt med till exempel ST-höjningar i I, aVL, V5-6: Lateral infarkt.
| Infarktlokalisation | EKG-avledning | Korresponderande kranskärl |
| --- | --- | --- |
| septal: | V1-2 | septaler eller LAD distalt om diagonal |
| mid-anterior | avL, eventuellt I, eventuellt V2-3, EJ V5-6 | diagonal 1 |
| apikal-anterior | V3-4, eventuellt V5-6, EJ aVL, I | mellersta LAD |
| utbrett anterior | V1-2 till V4-6, avL, eventuellt I | proximala LAD |
| lateral | I, avL, V5-6 | icke dominant LCX eller OM |
| inferior | II, III, och avF | dominant RCA eller dominant LCX |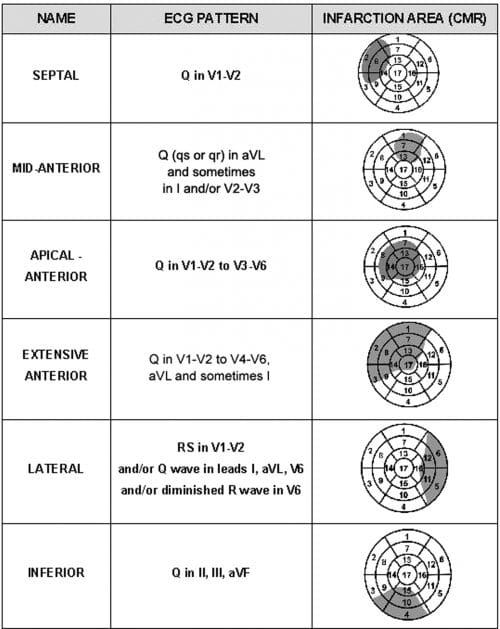 Översiktbild (fig 7) från samma paper 2006
Litteratur
A new terminology for left ventricular walls and location of myocardial infarcts that present Q wave based on the standard of cardiac magnetic resonance imaging: a statement for healthcare professionals from a committee appointed by the International Society for Holter and Noninvasive Electrocardiography
Relaterade sidor
Last Updated on January 25, 2022 by Christian Dworeck
Latest posts by Christian Dworeck
(see all)