12-avlednings EKG
Bröstavledningar
EKG elektrodplacering: Rätt placering av EKG-elektroderna är viktigt, även för att kunna jämföra EKG från olika tidpunkter.
Planerar du att ta flera EKG på samma patient är det bra att markera elektrodplaceringarna på patientens hud med en penna, så att elektroderna för nästa EKG kan sättas på samma plats. Alternativt, om du vill ta täta EKG, kan man låta elektroderna sitta kvar och sedan när det är dags för nytt EKG koppla upp dem till EKG-apparaten.
Standardavledningar
Avledning (AHA)[1]American Heart Association-nomenklatur
Anatomisk plats för EKG elektrodplacering
IEC beteckning och färgkod [2]IEC – International Electrotechnical Commission-vanligare i Europa
V1
4e ICR, höger kant av sternum
C1-

röd

V2
4e ICR, vänster kant av sternum
C2-

gul

V3
Centrerat mellan V2 och V4
C3-

grön

V4
5e ICR i vänster MCL
C4-

brun

V5
I höjd med V4 i vänstra främre AL
C5-svart
V6
I höjd med V4 i mellersta AL
C6-

lila
Beskrivning av elektrodplacering: [3]

adapterad, Ohlshausen, EKG information, Steinkopff Verlag, p 19
ICR= interkostalrum (tänk på att första revbenet inte är palpabelt, det vill säga första ICR är OVANPÅ första palpabla revbenet)
MCL= medioclavikularlinje
AL= axillarlinje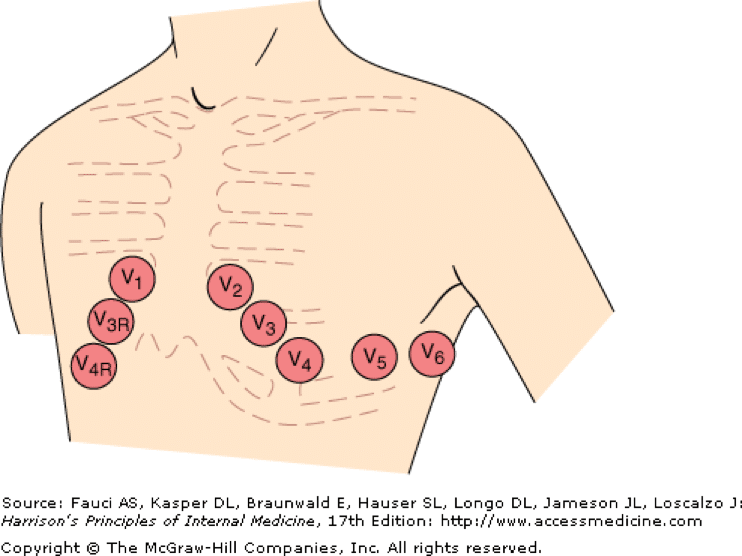 Extra bröstavledningar (posteriort, högerkammar)
Avledningarna V7-V9 kallas för posteriora avledningar och ska tas vid misstanke om arteria circumflexa-ocklusion (se avsnitt atypisk EKG vid transmural infarkt på sidan EKG-akut ischemi).
Avledningarna V3R, V4R kallas för högerkammar-avledningar och ska tas vid misstanke om högerkammarinfarkt (se EKG-akut ischemi).
Elektrodplacering: Dessa avledningar tas genom att omplacera andra avledningar. Vill du ta avledningar V3R och V4R tar du först ett vanligt EKG (extremitetsavledningar + V1-6) och placerar sedan om avledningar V3 och V4. För posteriora avledningar tar du likadant först ett vanligt EKG, sedan omplacerar du V4->V7, V5->V8, V6->V9. [4]Agarwal JB, Khaw K, Aurignac F, LoCurto A. Importance of posterior chest leads in patients with suspected myocardial infarction, but nondiagnostic, routine 12-lead electrocardiogram. Am J Cardiol. … Continue reading [5]Matetzky S, Freimark D, Feinberg MS, Novikov I, Rath S, Rabinowitz B, Kaplinsky E, Hod H. Acute myocardial infarction with isolated ST-segment elevation in posterior chest leads V7-9: … Continue reading Dessa extra avledningar har därför inga egna färgkoder (eftersom du använder till exempel V3 sladden (grön i IEC-kodering) för att ta V3R.
Avledning (AHA)[6]

American Heart Association-nomenklatur

Anatomisk plats för EKG elektrodplacering
V7
I höjd med V4 i bakre axillarlinje
V8
I höjd med V4 i mellersta skapularlinjen
V9
I höjd med V4 i vänstra paravertebrallinjen/paraspinallinjen
V3R
Som V3, men höger sida av sternum
V4R
Som V4, men höger sida av sternum
Esofagus-
avleding:
Vänster förmak: ca 36 cm från tandraden
Vänster kammare: ca 42 cm från tandraden
Extremitetsavledningar
Avledning (AHA)[7]American Heart Association-nomenklatur
Anatomisk plats för EKG elektrodplacering
IEC beteckning och färgkod [8]IEC – International Electrotechnical Commission-vanligare i Europa
RA (right arm)
Höger arm
R (right) –

röd

LA (left arm)
vänster arm
L –

gul

RL (right leg)
höger ben
N (neutral) – svart
LL (left leg)
vänster ben
F (foot) –

grön
3-avlednings EKG (arytmiövervak)
Använder du en defibrillator för arytmiövervak finns det oftast endast 3 (ibland 4) sladdar. Dessa motsvarar extremitetsavledningar på ett 12-avlednings EKG, beteckning och färgkoderna är likadana. Beroende på tillverkaren kodas dessa elektroder antigen efter IEC – International Electrotechnical Commission, vanligare i Europa, eller efter AHA systemet (AHA-färgkoden är ovanlig i Europa och visas här genomstruken, för att förhindra förväxlingar). Det vanliga i Sverige är att 3-avlednings-sladden i defibrillatorn kodas röd, gul, grön, eller ibland röd, gul, svart. Sätt på enligt nedan:
AHA beteckning och färgkod [9]American Heart Association-nomenklatur. AHA-färgkoden är ovanligt i Europa och visas här genomstruken, för att förhindra förväxlingar).
Anatomisk plats för EKG elektrodplacering
IEC beteckning och färgkod [10]IEC – International Electrotechnical Commission-vanligare i Europa
RA (right arm) – (vit)
Höger arm
R (right) –

röd

LA (left arm)- (svart)
vänster arm
L –

gul

RL (right leg) – (grön)
höger ben
N (neutral) – svart
LL (left leg) (röd)
vänster ben
F (foot) –

grön
Litteratur
Läkartidningen: Rätt kopplat EKG – en förutsättning för rätt diagnos
Last Updated on November 12, 2022 by Christian Dworeck
Latest posts by Christian Dworeck
(see all)