Vid koronarangiografi (kranskärlsröntgen) dokumenteras undersökningen på principiellt två sätt: Bilderna sparas digitalt (den mest objektiva dokumentationen), och bilderna beskrivs (som alltid är subjektivt). Beskrivningen görs antingen verbalt, eller genom att beteckna segmentet med en siffra. I koronarangiografi/PCI-registret SCAAR endast genom att använda siffror, i patientjournalen är den verbala beskrivningen mer vanlig.
Varje kranskärl indelas i olika segment, varje segment har både ett namn och ett nummer. Proximala LAD är, till exempel, "segment 6". På denna sidan ser du vilken siffra som används för vilket segment: Vi visar det först på bilden, och sedan i tabellen som text.
Nomenklatur som används vid koronarangiografi (kranskärlsröntgen) på svenska PCI-lab för beteckning av kranskärlssegment i SCAAR/Swedeheart: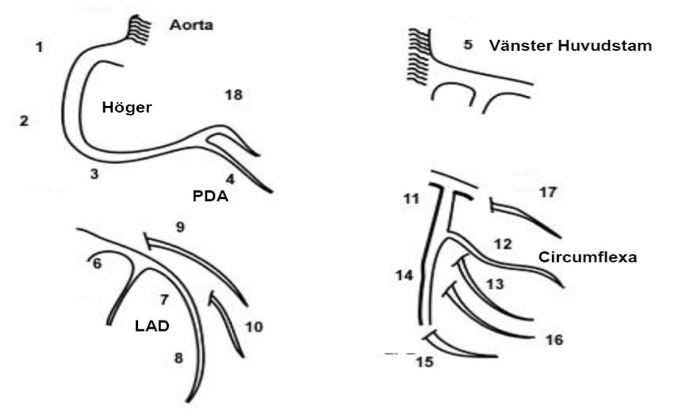 Koronar-Segment-Nr. (SCAAR):
RCA (höger kranskärl)
Proximala RCA (ostiet till mitten mellan ostiet och akuta marginalgrenen)
1
Mellersta RCA (mellan segment 1 och 3)
2
Distala RCA (distalt om akut marginalgren (AM) till crux)
3
PDA (post descending artery) = RPD (ramus posterior desc)
4
PLA (posterolateral artery)
18
Vänster huvudstam (LM)
5
LAD (left anterior descending artery)
Proximala (ostiet till första diagonal eller septal, ej tydligt definierat)
6
Mellersta LAD (mellan sgm 6 och 8)
7
Distala LAD
8
Diagonalis 1
9
Diagonalis 2 (diagonalgrenar distalt om Dg 2 numreras inte)
10
Septalgren
20
LCX (arteria circumflexa)
Proximala CX
11
Distala CX (distalt om första obtusa marginalen, notera att det inte finns
ett medialt segment i CX)
14
LPD (left posteriort descending, endast vid vänsterdominans)
15
Obtus marginalgren 1
12
Obtus 2
13
Obtus 3
16
Intermediär
(ej hos alla, definierat som ett kärl som avgår från huvudstammen mellan
LAD och LCX)
17
Segment Bypass nämns:
Bypass= 32+mottagarkärl
(Vengraft till PDA: 32+4=36)
Andra kranskärl segmentindelningar (koronarangiografi)
Segmentindelningen som används för kranskärl i SCAAR liknar den som publicerades 1975 av AHA [1]Austen WG, Edwards JE, Frye RL, et al. A reporting system on patients evaluated for coronary artery disease. Report of the Ad Hoc Committee for Grading of Coronary Artery Disease, Council on … Continue reading men är dock inte exakt samma: I AHA-nomenklaturen är segment 14 en låg OM (posterolateral gren från LCX) (13 i SCAAR), distala LCX är på AHA segment 13 (SCAAR: 14).
Det finns en uppdaterad ACC/AHA definition (2014) av koronarsegmenten, som inte är samma som den som används i SCAAR (se appendix 10 i dokumentet) [2]Hicks KA, Tcheng JE, Bozkurt B, et al. 2014 ACC/AHA Key Data Elements and Definitions for Cardiovascular Endpoint Events in Clinical Trials: A Report of the American College of Cardiology/American … Continue reading
Segmentindelning
CT-kranskärl
Society of Cardiovascular Computed Tomography (SCCT) har 2014 publicerat förnyade riktlinjer för CT kranskärl:
SCCT guidelines for the interpretation and reporting of coronary CT angiography: a report of the Society of Cardiovascular Computed Tomography Guidelines Committee [3]Leipsic J, Abbara S, Achenbach S, Cury R, Earls JP, Mancini GJ, Nieman K, Pontone G, Raff GL. SCCT guidelines for the interpretation and reporting of coronary CT angiography: a report of the Society … Continue reading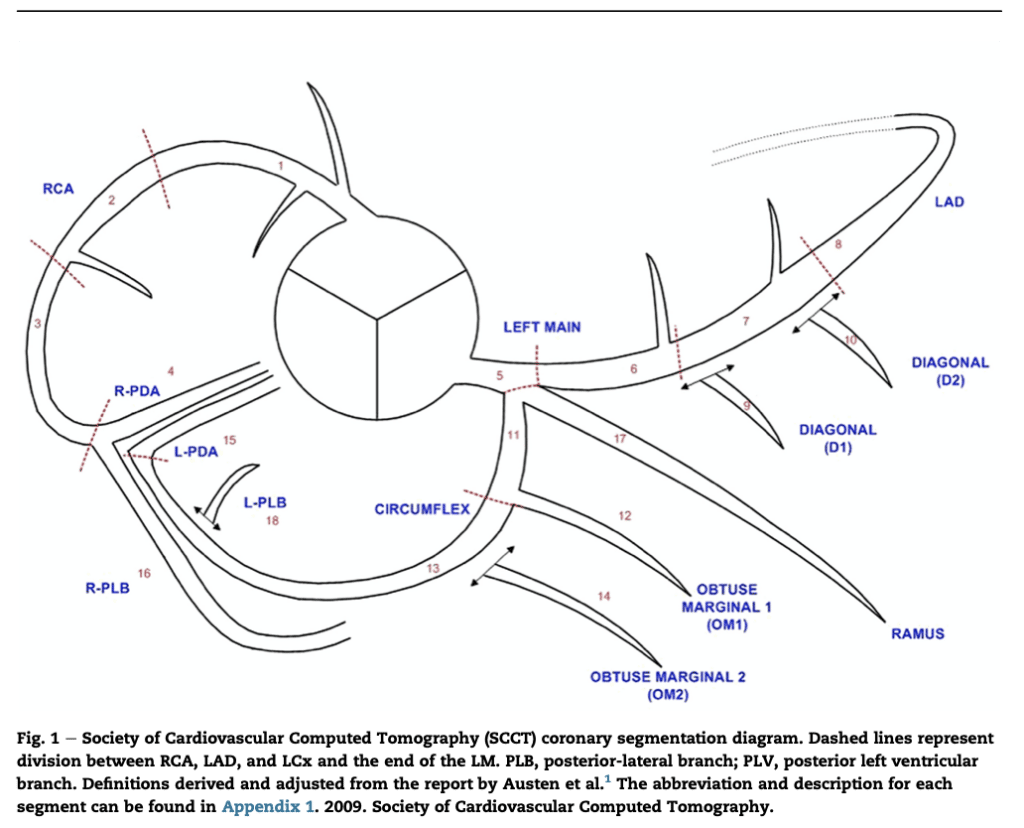 Notera skilnader mellan SCCT och SCAAR nomenklaturens definition:
SCAAR
Koronarangiografi
SCCT
CT-kranskärl
PLA från RCA
18
16
Distala LCX
14
13
OM2
13
14
Last Updated on April 19, 2022 by Daniella Isaksén
Latest posts by Christian Dworeck
(see all)