En temporär pacemaker är indicerat vid akut bradykardi när läkemedelsbehandling (atropin i.v, teofyllamin i.v, isoproenalin dropp i.v.) är ineffektiv eller kontraindicerad, antingen som brygga till ett permanent pacemakersystem eller som övergående behandling för bradykardi sekundär till en akut och övergående orsak som inte kräver permanent pacing (se sidan akut bradykardi/orsaker).

På sidan beskriver vi två metoder: Transkutan temporär pacemaker, en icke-invasiv akutåtgärd där energin appliceras via två hudelektroder, och transvenös temporär pacemaker, en invasiv metod som kräver venös inläggning av en elektrod.

Transkutan pacing är enkelt och kan startas på några sekunder, är dock mindre pålitligt och ofta smärtsamt. Transvenös pacing är klart effektivare, kan användas över längre tid men kräver mer erfarenhet och tar som invasiv metod längre tid att starta. Transkutan pacing kan användas när en transvenös pacemaker inte är tillgänglig, till exempel prehospitalt, och som omedelbar akutåtgärd tills material och kompetens är tillgänglig för att implantera en temporär transvenös pacemaker.
Transkutan pacing
Sammanfattning
Transkutan pacing (användning av transkutan temporär pacemaker) är en livräddande åtgärd som alla läkare borde kunna använda. Största problemet med transkutan pacing är svårigheten att få capture på grund av hög impedans i torax och smärta för patienten, varför metoden bara används i akuta fall tills transvenös pacing är på plats.
Bakgrund
Transkutan pacing introducerades 1952 av Paul Zoll [1]Lüderitz, B. Paul M. Zoll (1911-1999). J Interv Card Electrophysiol 7, 193 (2002). https://doi-org.ezproxy.ub.gu.se/10.1023/A:1020802224896, med subkutana nålar som elektroder, [2]Zoll PM, Zoll RH, Falk RH, Clinton JE, Eitel DR, Antman EM. External noninvasive temporary cardiac pacing: clinical trials. Circulation. 1985 May;71(5):937-44. doi: 10.1161/01.cir.71.5.937. PMID: … Continue reading som den första kliniskt använda pacemakern överhuvudtaget. [3]Aquilina O. A brief history of cardiac pacing. Images Paediatr Cardiol. 2006 Apr;8(2):17-81. PMID: 22368662; PMCID: PMC3232561.< [4]Senning A. Cardiac pacing in retrospect. Am J Surg. 1983 Jun;145(6):733-9. doi: 10.1016/0002-9610(83)90130-7. PMID: 6344675. [5]Nelson GD. A brief history of cardiac pacing. Tex Heart Inst J. 1993;20(1):12-8. PMID: 8508058; PMCID: PMC325046. Metoden användes inte på 60/70-talet, men återkom på 80-talet och framåt [6]Cummins RO, Graves JR, Larsen MP, Hallstrom AP, Hearne TR, Ciliberti J, Nicola RM, Horan S. Out-of-hospital transcutaneous pacing by emergency medical technicians in patients with asystolic cardiac … Continue reading som tilläggs-funktion i defibrillatorer och har sedan dess utvecklats till en brett använd akutåtgärd [7]Dalsey WC, Syverud SA, Hedges JR. Emergency department use of transcutaneous pacing for cardiac arrests. Crit Care Med. 1985 May;13(5):399-401. doi: 10.1097/00003246-198505000-00006. PMID: 3987317. och idag rekommenderas transkutan pacing som temporär pacemaker i europeiska HLR-guidelines för patienter med allvarlig bradykardi. [8]Deakin CD, Nolan JP, Sunde K, Koster RW. European Resuscitation Council Guidelines for Resuscitation 2010 Section 3. Electrical therapies: automated external defibrillators, defibrillation, … Continue reading Temporär pacing är sannolikt inte meningsfull som rutinåtgärd på patienter som presenterar prehospitalt med asystoli [9]Cummins RO, Graves JR, Larsen MP, Hallstrom AP, Hearne TR, Ciliberti J, Nicola RM, Horan S. Out-of-hospital transcutaneous pacing by emergency medical technicians in patients with asystolic cardiac … Continue reading.
Användning av en temporär transkutan pacemaker kan vara en livräddande insats och alla läkare ska veta hur det praktiskt fungerar. Det finns olika defibrillatormodeller så ha som vana att gå och kolla hur defibrillatorn fungerar på just din arbetsplats första dagen på jobbet.
Transkutan pacing via en extern defibrillator ger inte alltid tillförlitligtkammarstimulering och ska därför användas under kontinuerlig hemodynamisk monitorering och endast i situationer där inget annat alternativ är tillgängligt [10]European Society of Cardiology (ESC); European Heart Rhythm Association (EHRA), Brignole M, Auricchio A, Baron-Esquivias G, Bordachar P, Boriani G, Breithardt OA, Cleland J, Deharo JC, Delgado V, … Continue reading.
Indikation transkutan temporär pacemaker
Vid allvarlig bradykardi (bradykardi som orsakar hemodynamisk påverkan) när läkemedel inte hjälper och transvenös pacing inte är direkt tillgänglig.
Asystoli: Hos patienter med prehospitalt hjärtstopp som presenterar med asystoli är pacing oftast inte framgångsrik. [11]Cummins RO, Graves JR, Larsen MP, Hallstrom AP, Hearne TR, Ciliberti J, Nicola RM, Horan S. Out-of-hospital transcutaneous pacing by emergency medical technicians in patients with asystolic cardiac …

Continue reading

. Men på patienter som på sjukhuset utvecklar asystoli på övervak bör pacing absolut försökas (efter påbörjad HLR). Kontrollera även om du ser p-vågor hos en patient utan kammaraktivitet – vid totalt AV-block är pacing klart indicerat.
Praktiskt genomförande: Transkutan temporär pacemaker
Vi förklarar enligt en LIFEPACK 20 defibrillator med pacing-funktion. Har du en annan modell på din klinik? Kontakta oss gärna och skicka bilder.
Kontrollera att din defibrillator har en pacing-funktion.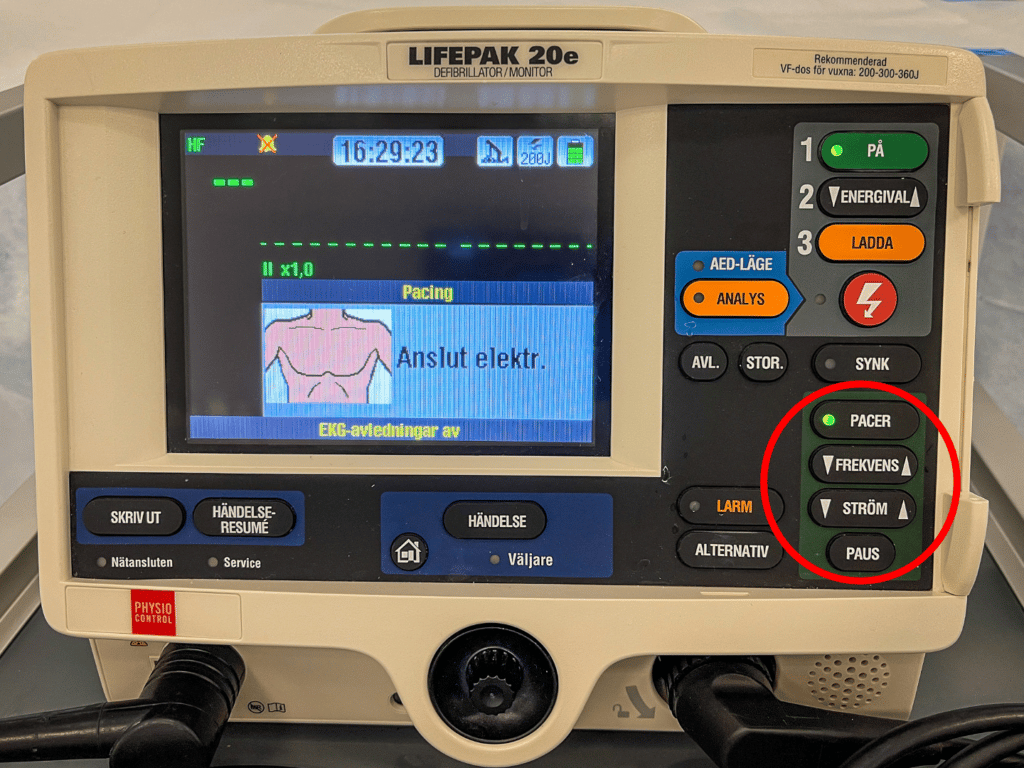 Kontrollera att plattorna är "pace-deff" plattor (= tänkt för både defibrillering och pacing), det står på förpackningen.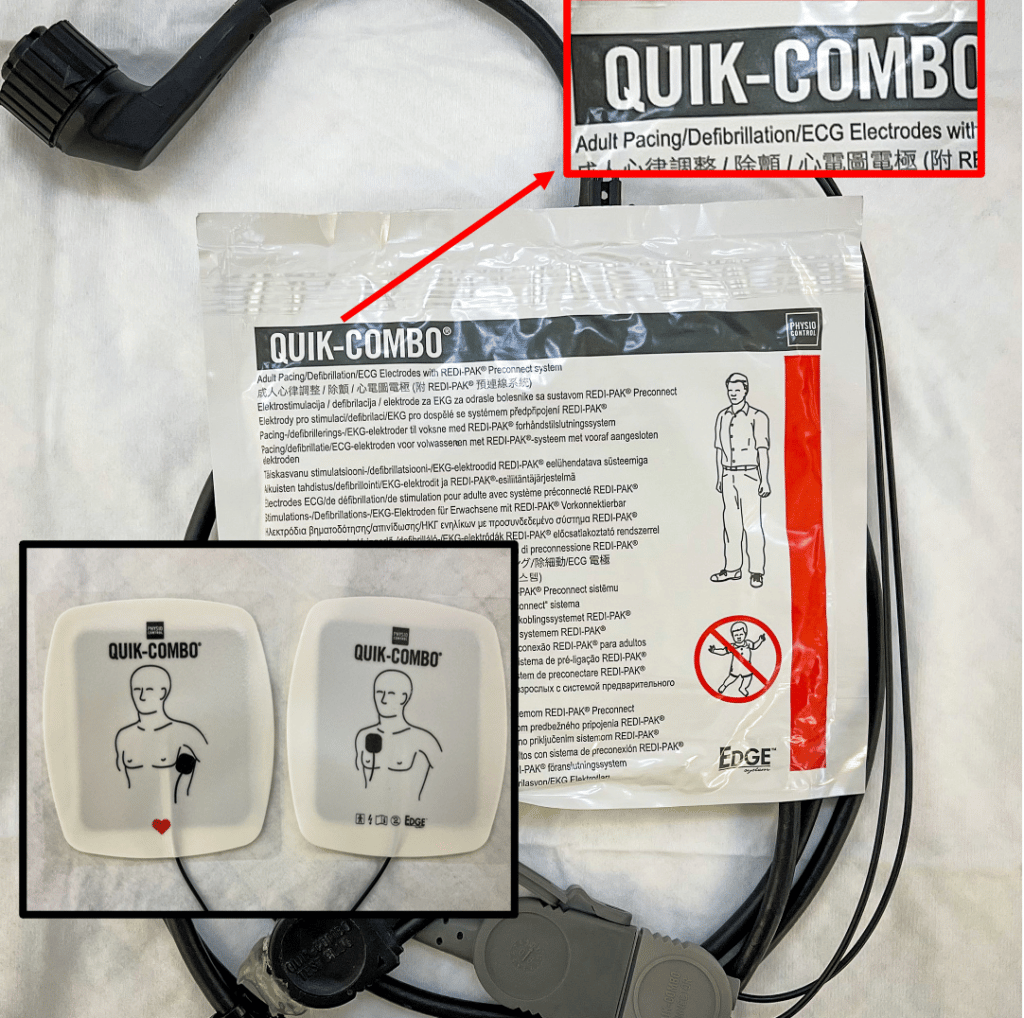 Placera plattorna helst anterior-posteriort:

Sätt en platta på bröstet ovanpå hjärtat (vänster av sternum) och den andra likadant på ryggen. Om plattorna redan sitter på patienten i vanlig HLR-position (anterior-lateral) kan du byta position om du har tid, prova annars om det fungerar i denna position (nackdelen är att impedansen är högre = det krävs mer energi).

Anslut EKG-sladden!!!

De flesta defibrillatorer kan endast pacea om du ansluter en till sladd utöver defibrillator-plattorna, nämligen 3-avledningssladden. Defibrillatorn använder då pace-plattorna för att pacea, och ekg-avledningssladden för att sensa.
Anslut som vid vanlig EKG-övervakning: Röd på höger axel, gul på vänster axel, grön på vänster ben (eller vänster höft) (andra färgkoder kan förekomma, se detaljer på sidan EKG: Rätt elektrodplacering/3-punktsavledningar ).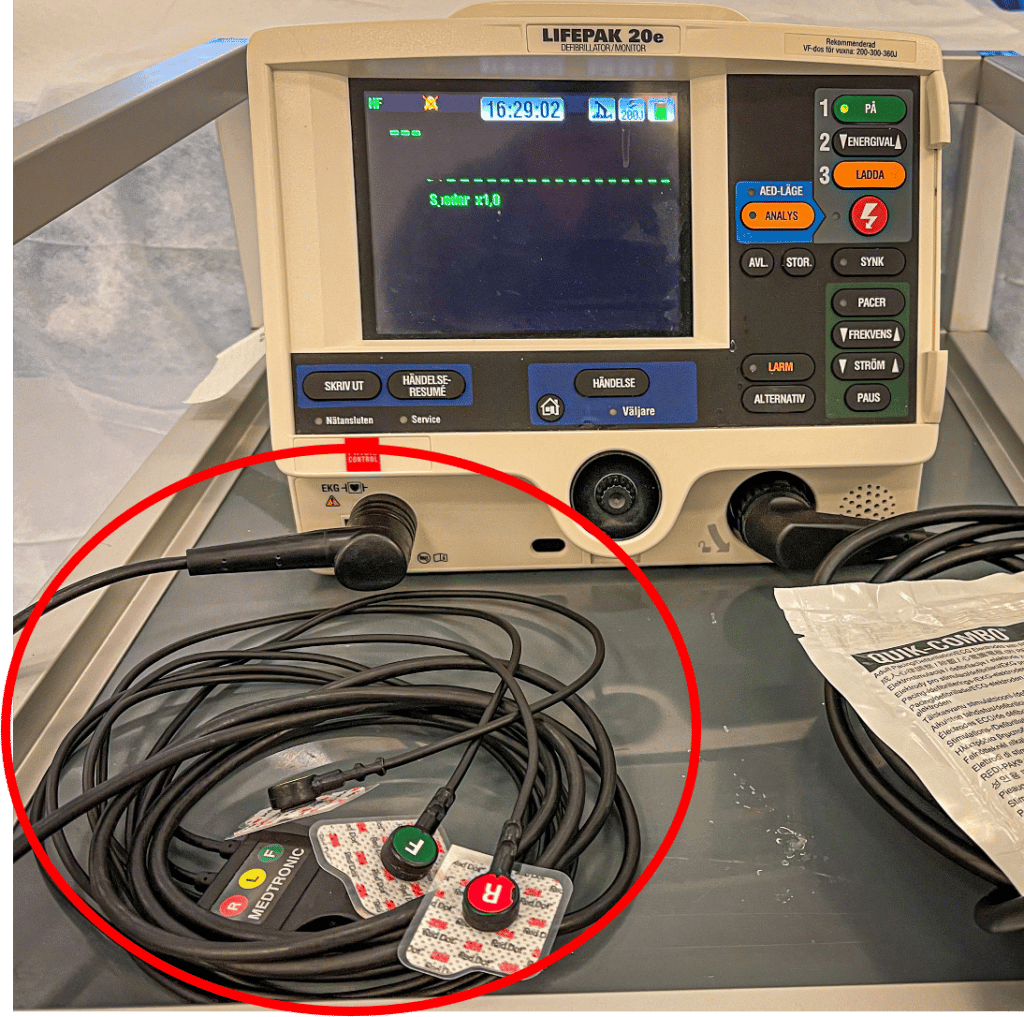 Välj avledning på defibrillatorn:

Välj att en av EKG-övervaksavledningarna (vanligtvis "I, II, III") visas på skärmen (välj avledning som ger störst R-våg), inte avledningen som kommer via defibrillator-plattorna.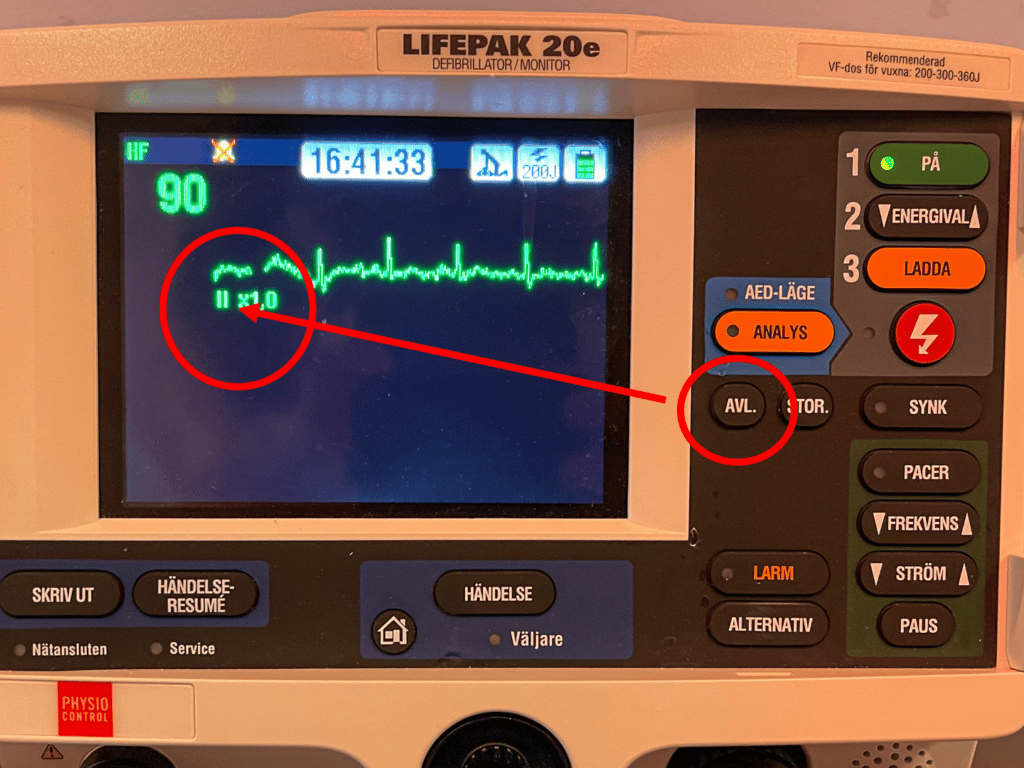 Aktivera pacemakern:

Du borde nu se en trigger-markering (en triangel) ovanpå varje QRS-komplex (om det inte finns trigger markeringar: Byt avledning (knapp "avl", se ovan) eller öka amplituden (knapp "stor").
OBS: Pacemakern startar med 0 mA, det vill säga utan ström!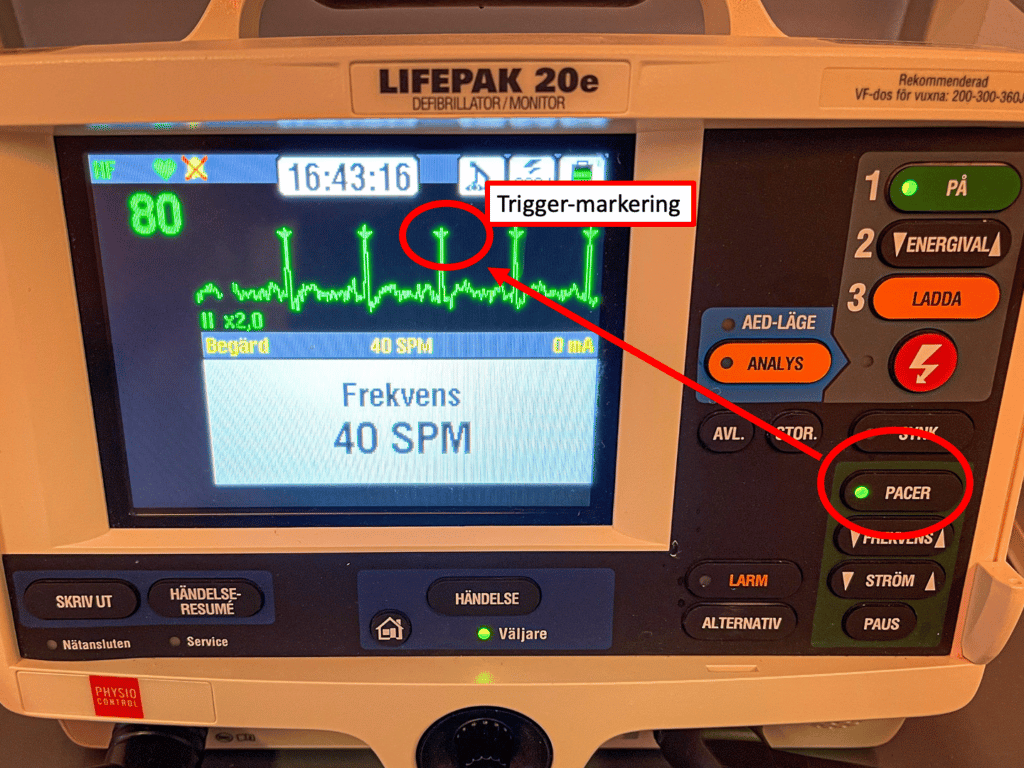 Välj frekvensen.

På vakna patienter är det är lämpligt att välja den lägsta frekvensen som räcker för att upprätthålla cirkulationen, tex 40/min (lägre frekvens=mindre smärta för patienten).
På sövda/medvetslösa patienter där smärtan inte är ett problem bör frekvensen ställas på 70-100/min, beroende på situationen.
Pacemakern fungerar i VVI-mode: Pacemakern inhiberas om patientens egen frekvens är högre än pacemakerfrekvensen. Om patientens egenfrekvens är 50 kan du alltså aktivera pacemakern med frekvens 40 (och aktivera energin, se nästa steg) men pacemakern kommer endast paca om patientens egenfrekvens faller till <40/min. (obs: förutsättning är att pacemakern känner igen patientens egna QRS, det visas genom trigger-markeringar, se ovan).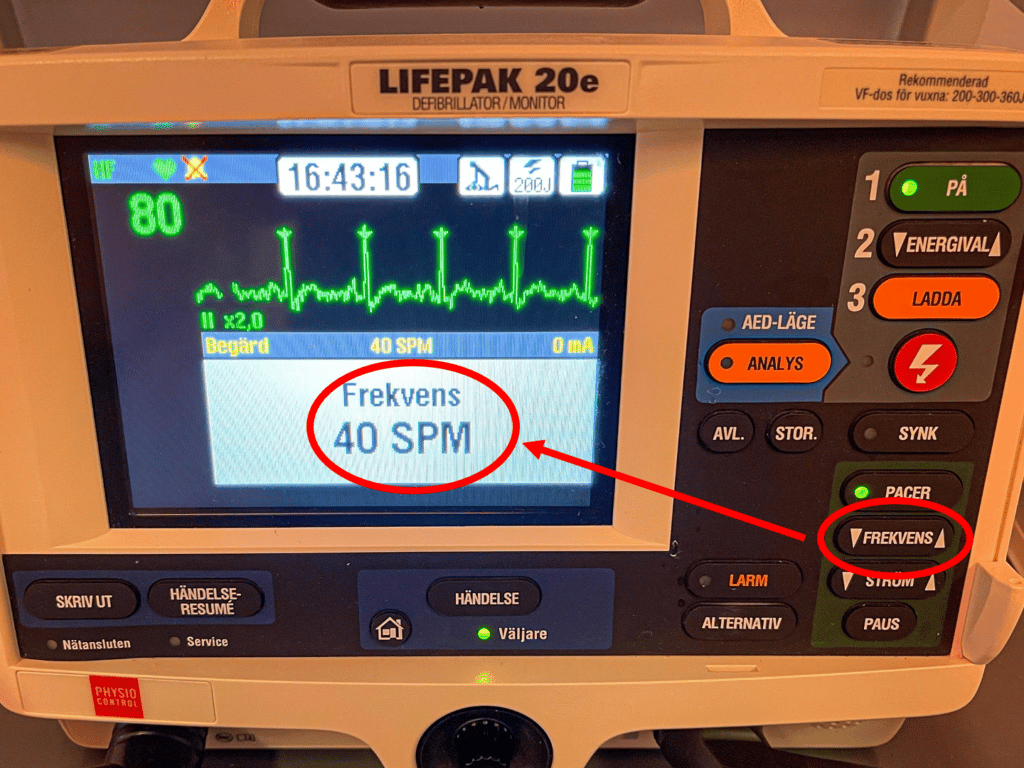 Välj energi!!!

I teorin krävs det ca 1 mA/kg kroppsvikt, alltså 70-80 mA för en vanlig patient. I kliniska realiteten, framförallt i HLR-situationer, krävs det ofta betydligt mer energi. På sövda/metvetslösa patienter (där främsta målet är att snabbt säkra cirkualtionen och smärta inte är ett problem) är det mest realistiskt att börja med hög energi (150-200 mA) och sedan så småningom trappa ned under pulskontroll efter ett par minuter.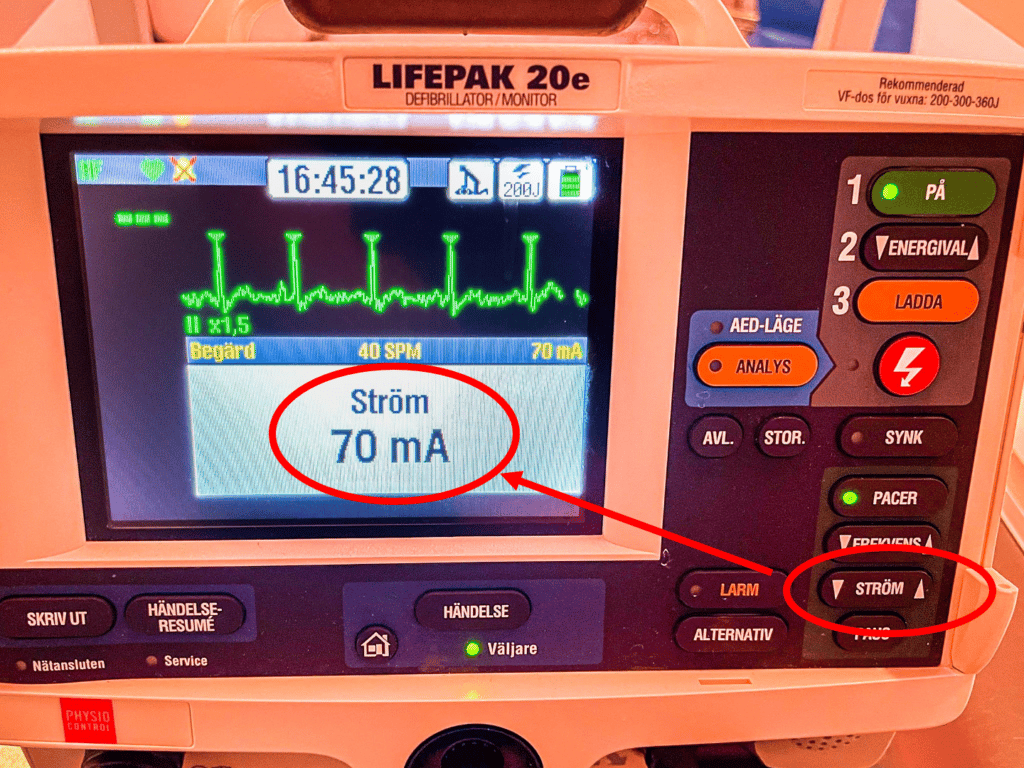 Kontrollera pacemaker-effekten!!!

Transkutan pacing är opålitlig och behöver kontinuerligt kontrolleras: Kolla om patienten har en puls synkron med pacing. Det kan vara svårt i realiteten, eftersom pacemakern ofta orsaker betydande ryckningar som gör det svårt att avgöra vad som är ryckning och vad som är puls. Palpera arteria femoralis eller carotis. Om du är osäker: Utgå ifrån att pacemakern inte fungerar, tills du är säker (gör HLR tills du är säker). Ibland är det tydligare att sätta på en POX och se att den slår ut. Bästa sättet att kontrollera är via invasiv artärtrycksmätning.
Lita ALDRIG på att pacemakern fungerar endast för att du ser en elektrisk signal på skärmen.
Lämna inte patienten med transkutan pace. Var närvarande tills en mer tillförlitlig metod (transvenös pace) är insatt.

Planera för en långtidslösning:

Transkutan temporär pacing är endast en kortvarig lösning. Börja planera för temporär transvenös pacing så fort transkutan pacing är igång.
Komplikationer/biverkningar
Transkutan pacing orskar ofta betydande smärtor. Pacing på vakna patienter kräver mycket sedering och smärtlindring.
Stimulering av skelettmuskler och diafragma.
Användning av gel-plattor för transkutan pacing över längre tid kan orsaka kutana brännskador. Längre (> 8 timmar) användning av defibrillator-plattor som backup ska undvikas, om det av någon ovanlig anledning ändå bedöms vara nödvändigt ska elektroderna bytas var tolfte timme (läs här [12]Papazov S, Kostov Z, Daskalov I. Electrical current distribution under transthoracic defibrillation and pacing electrodes. J Med Eng Technol. 2002 Jan-Feb;26(1):22-7. doi: 10.1080/03091900110102454. …

Continue reading

varför) [13]Payne JE, Morgan JL, Weachter RR, Alpert MA. Third-degree burns associated with transcutaneous pacing. BMJ Case Rep. 2018 Oct 2;2018:bcr2018226769. doi: 10.1136/bcr-2018-226769. PMID: 30279263; …

Continue reading

[14]Singleton MJ, Schoenfeld MH, Bhave PD, Beaty EH, Whalen SP. Third-degree burns caused by transcutaneous pacing for third-degree heart block. HeartRhythm Case Rep. 2020 May 18;6(8):495-498. doi: …

Continue reading

. Brännskador har rapporterats redan efter två timmars transkutan pacing. [15]

Muschart X. Burns to be alive: a complication of transcutaneous cardiac stimulation. Crit Care. 2014 Nov 12;18(6):622. doi: 10.1186/s13054-014-0622-x. PMID: 25672246; PMCID: PMC4236425.

Den mest allvarliga risken är att missa när pacemakern inte ger capture, se "praktiskt genomförande" ovan.
Transvenös pacing
uppdateras snart
Last Updated on October 25, 2022 by Christian Dworeck
Latest posts by Christian Dworeck
(see all)